Can't get your kids to eat their veggies? Here's how!
1 1/2 cups Biscuit & Baking Mix (Bob's Red Mill brand)
2 tsp. ENER-G egg replacer
 2 tsp. baking powder
1/2 tsp. salt
1/4 cup brown sugar
1/2 cup semi sweet choc chips
4 tbsp. vegetable oil
5 tbsp. water
1 tbsp. vanilla extract
2 tbsp. plain coconut yogurt
1 cup mashed ripe banana
1 – 2 cups shredded beet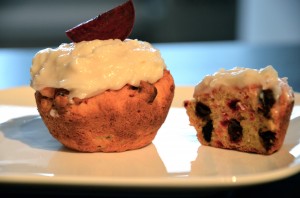 Directions:
Preheat oven to 350 degrees F. Mix all dry ingredients together. Now add all wet ingredients together separately and whisk for 30 secs. Add both dry & wet ingredients together and mix for 2 minutes. Add mashed banana and beet shavings. The batter will look very red at this point, don't worry, it will bake out in the heat! Pour the batter into muffin or cupcake pan and bake for 30-40 minutes until toothpick test comes out clean. Let cool for 20 minutes and ice with VegaNation's signature tofu icing!
VegaNation's Signature Tofu Icing
Our tofu icing is suitable for any baking, be it a cake or simply a cupcake. What you'll need:
1/2 cup tofu cream cheese (Tofutti brand is great)
1/4 cup vegan shortening
1 banana (mashed) 
Be sure to add the shortening and tofu cream cheese together first, creating a creamy, smooth unit — no clumps! Chill for 15 minutes, then distribute evenly on your bakings!
Feel free to add 1/2 – 1 cup of fancy shredded coconut ~
Print This Page